Realm Defense: Hero Legends TD
+ MOD (Unlimited Money) v2.7.9
Updated on
App Info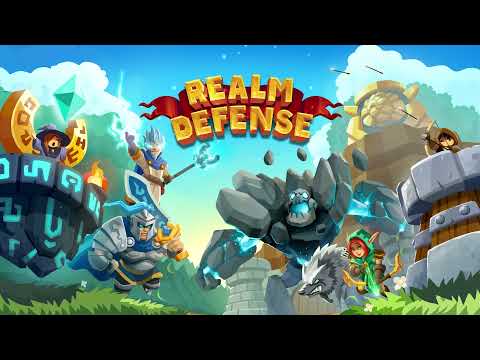 Realm Defense APK wiki:
The "Realm Defense" is a traditional tower defense game. You will have many enemies in this game, your goal is to develop various defense towers along your path. You'll need to destroy more enemies as you go further in this game. The gameplay is really simple. Whenever you beat an enemy, you get coins that you can spend to purchase more new towers or spend on the upgrades for the towers you already have. But the game is over if your enemies avoid your attacks and make it to the finish line.
This game Realm Defense has around 300 levels. As you go through all the levels of this game, you will need to kill a lot of unique monsters. Each of these monsters has weaknesses and strengths you should be aware of. However, you also own a number of defense towers. It is a great tower defense game with a large number of levels, towers, and enemies. Yet, the amazing cartoon-styled visuals are the best part of this game.
You can play Realm Defense right now to control a diverse range of heroes such as the wizard Bolton, the strong dragon Smoulder, a wonderful sorceress, Helios the Phoenix, and several other heroes beyond the wildest fantasies. You have to defend the kingdom against the attacks of rattling skeletons and slimes by using barracks, cannons, magic towers, and archers. You can discover the amazing realms of the frozen tundra, the burning sands of the desert, the region of cherry blossoms, the deep and dark subway tunnels, and the mysterious community that is in the skies. This game has all the unique enemy groups to beat, and many more are on the way.
If you want to show that you have the best tower defense techniques in this world then you need to participate in the weekly competition to compete against players in the world. You have to move onto the ladder with the season, and hold the GrandMaster title to show your skills to the world. You need to gather a large collection of power items and spells to help you fight the attacks of your enemies. By performing everyday challenges, you can gather the strength for your heroes by giving them the ability to be stronger. You have to collect the skins to customize the heroes. Earn the skins that make you a champion by participating in the tournament or by claiming skins from the seasonal events and displaying them in the tournaments.
The world in the game Realm Defense is split up into many locations, each one with unique environmental characteristics. As a consequence, the opponents and external conditions can change. According to the maps, you will have to utilize specific kinds of towers. This game Realm Defense gives four distinct towers in every realm to help you achieve this.
Realm Defense APK download
You can download the Realm Defense game on your android mobile phone by simply clicking on this given link for free. If you want to have this Realm Defense game on your android phone, you need to download our mod apk file on your device and install it. You have to follow the below-mentioned steps to download the Realm Defense game on your mobile phone:
To download our

Realm Defense

mod apk file, you must tap the given link on this page.

If you want to download and install this apk file on your mobile phone, you must access your mobile phone settings and enable the unknown resources to install.

Now go to the downloads in the file manager and find the downloaded file.

When you find our Realm Defense APK file there, just click on it.

Now click the install button to start the installation of our Realm Defense

mod apk

Follow the instructions given on the screen
Now you have access to the Realm Defense game on your phone and use the awesome features of this application without cost.
Realm Defense apk unlimited gems:
Moreover, gems are considered as the premium currency in this game Realm Defense. The gems are available to be purchased in the store with the actual money, and users can also obtain them by finishing game levels, daily challenges, quests and achieving goals. The best thing is that you can collect unlimited gems by using Realm Defense  MOD apk for free. To obtain unlimited gems in this game, you simply have to click on the given link on this page for the Android devices.
Realm Defense mod apk free shopping:
One of the best features of our Realm Defense mod is that you can even do free shopping. This mod can unlock all the collection of gems, coins and money for free. Then you can buy all the required items in this game with these coins absolutely free. You simply have to download and install our Realm Defense mod to enjoy all the unlocked premium features of this game for free.
Realm Defense best heroes:
Fee is a fantastic offensive hero with a huge attack range in the early game, however in the game's middle stages her power can not continue without a significant investment in the awakenings.
In some of the initial worlds of this game, Lancelot is a competent defensive tank. If a user awakened him, it would be a very reasonable and affordable choice than any other tank. Lancelot is really  useful up to W5 and has the capacity to aid in W6 if necessary. However,  there will be more competent heroes available at that time.
Masamune is the best choice among the 1500 gem group initially. His teleport and stun can be really helpful later in Worlds 3 and 4. Though his amount of damage is low and even his clones can easily stall than to kill. His clones can still help in W6.
Connie is a special hero in so many aspects and the current MVP of all types of game. She is offered at an extremely low price but demands for a particular upgrading procedure. In the W5 and W6, she will be the single player to alter game progress. You should awaken Connie as early as you can. 
Efrigid is the greatest and also most effective mage initially in the game. It is really helpful in a large number of scenarios. It is really useful from W1to W6 in this game.
When fighting alone or grouped opponents, Smoulder is both highly defensive and offensive at least initially. Although he dies very quickly, he loses the steam in W4 to W6 and becomes less important. However, Smoulder helps in upgrading Efrigid, so he could be worthwhile to buy as your primary hero.
Mabyn can really be difficult to play particularly for F2P but she is much stronger than any other hero at the time you could get her. Mabyn is very useful up to W5, but generally a good resource that could help Necro Connie to get unlocked.
Helios is incredibly strong, but to really use her, micro management is required. Helios can be an excessive weapon in W6 maps once highly rated (R6).
Yan is really helpful and costly. But if you appreciate what she has to give, she could be really beneficial, but you don't have to rely on her to change the way you play. In W6, Yan has incredibly high importance.
A player can use Leif to rescue the game if you are having a lot of trouble, but It has an extremely high cost. A player should avoid this extremely expensive hero if you can simply obtain necro-Connie in its place. Leif delivers more real hero power than any other hero in the overall game during its purchasing time.Leif is excellent for RS, particularly in terms of receiving a new tournament hero, but this is not always the case in all tournaments.
Azura has the potential to emerge as one of the finest heroes in the whole game. But when you are so near to Koi and Raida, you might want to overlook Azura for a while. Because other heroes are available, she sadly has no place at that point in the game. Necro Connie mainly took her place.
Raida is considered as one of the greatest heroes in this game. Raida is considered as the number one hero all around and the number two hero for damage. It makes Raida very valuable in the tournaments as a blessed hero when you need one.
The most powerful hero in the game is Koizuul, who was created especially for the tournaments. Koizuul has played in more tournament scenarios than any other hero. However, it is not very effective or strong in non-tournament circumstances as it was made for tournament mode.
Realm Defense tournament:
The Tournament can be accessed in World 2 after Level 21 has been completed. The new Tournament starts every week and it can last for six days from Tuesday to Sundays. Every tournament has a blessed hero and a special map. Blessed hero's base stats will significantly increase.
Every week, you are assigned to a group to play your first game. Each league specifies how many people will be in your group ( gold 20, bronze 10 and legendary 50 etc ). People who are in the same league are included in the same groups.  Only when your groups have top several positions then you can move up to a new league.
The tournament has a total number of seven leagues.
Every day that the tournament is available, each player is allowed one free entry. The player will then have to view an ad or spend gems to enter the tournament. It will cost nine gems for the second entry and it will keep on increasing by fifty percent each time until entrance costs 100 gems to enter the tournament.
Realm defense achievements:
The achievements of the Realm Defense game are listed here, along with instructions about how to achieve each one. If a user is stuck in a campaign and would like to move forward more quickly, achievements are a fantastic way to earn some gems. Player also receives a title along with achievement. According to the amount of achievements finished, there are four different titles. The score screen of each tournament and your profile page both display the current title.
Four different tower designs with achievements are included in each world. There are map levels in some towers which can enable you to place and sell way more easily than others. Considering how frequently they are placed, there are three achievement of each tower:
100 times tower placements provide 20 gems.

1000 times tower placements yield 40 gems.

10000 times tower placements yield 60 gems.
The three achievements belong to every hero in regards to their active skill. It is generally wise to skip the first two stages if you truly would like to earn some gems, and as you utilize these heroes then the level with the last sixty gems will get filled gradually.
The best area to farm Caldera in W5 is with the healers under several gloomshrooms.
Realm Defense ios hack:
To hack this game and have fun playing it with unlimited coins and gems for free, you must install the Realm Defense mod on your device. 
Download and install the Realm Defense mod apk.

See the instructions on your screen and complete the process.

When it gets installed completely, open the application MOD apk to enjoy the resources that are free and unlimited.
Realm Defense guide:
If the player is totally dedicated to F2P must put speed of gem spending above basically all other considerations, while the player who is ready to play P2W can buy a lot more heroes all along line who are mostly out of F2P's range. 

A lot of your gems will initially be gained by achieving significant progress in the game, which includes completing challenges like the Endless mode, defeating campaign levels in legendary mode and regular mode.

Moreover, players often gain between 3 and 6k gems each month from their normal everyday activities such as wheel of prizes, daily trial etc. It should be noted that this is simply an average and that there are peaks in the end and middle of every month when Daily Trial can provide you 1,000 gems in a matter of days.

Furthermore, it is typically represented as 3000 gems for every month, and therefore 100 for every day (supposing 30 days per month). So with the help of these figures, you can plan ahead.

You should watch an advertisement to avoid the Daily Trial once you have been playing for 60 days, however many players still prefer to play it for enjoyment and to complete tasks that contribute to their Achievements.

You can also receive an additional 1.5 to 3k gems for every month when you spin the Wheel of Prizes (around 5 times per day, but only the first 4 give gems). Although this is extremely uncertain on a daily basis, your results may vary. 

You can use your gems to either purchase new heroes or awaken your existing heroes. You will perform both, but a big part of the challenge is maintaining the proper balance to achieve your next objective or goals.
Realm Defense levels:
Every hero contains a single active power and three passive abilities of every hero can be unlocked around levels three, six and nine. Just at the moment, powers may be further improved to level two at the hero level ten, thirteen, sixteen and nineteen. At present, a hero can reach a maximum level 40. Since the developers of this game have frequently lifted the maximum level in 5 point increments, it is fair to expect that the cap will eventually rise to 45. A hero's base stats do increase as they level up, but the stats section of hero camp never display this.
You may check the spreadsheet to view the quantity as the larger stat bars do not show the increase. The general guideline for leveling heroes is to quickly level them up to 20–25 before switching to the next one. The greatest amount of power is achieved at level 40. GrandMaster Titles are often gained with low-leveled heroes since it is the very last and least useful thing you can do to gain an advantage.  Also, not all heroes use levels to the exact extent.
Realm defense PC:
Since there isn't an original version of Realm Defense game for computer Windows (7, 8 or 10), you still can get it via an emulator. We've mentioned two ways to download and set up Realm Defense apk on the Windows computer (7 / 8 / 10). You can choose from the methods listed below to get this app to your PC.
1st Method:
For installing and using Android applications on the Windows PC, Bluestacks is a widely used emulator. The Bluestacks software can be used by Mac OS users. On a PC running Windows 7 or 8 or 10, we'll need Bluestacks to install and operate the Realm Defense application. So let's discuss the process of installation in detail:
You can get the Bluestacks 5 software from its official website.

The process of installation is very simple and clear to follow. After it is installed successfully, the Bluestacks can be launched.

The Bluestacks software can take a long time to load at first. The home screen of Bluestacks should be accessible after it has been started.

Google Play is already present in the Bluestacks. On the home screen,  you just need to find the icon of Playstore, then launch it by double clicking on the button.

Search for the app you wish to download and launch on your computer right now. Therefore in such a situation, search for the Realm Defense game and download it on the PC.

Once you select the Install option on the Bluestacks software, the Realm Defense game will be installed right away. The app is displayed in the collection of installed programmes of Bluestacks.

In Bluestacks, you just have to double tap on the application's button to start the

Realm Defense app

on the computer just now. The Realm Defense game can be played just like you will play it on the Android devices.
Method 2:
Nox player is a very well known emulator which has recently drawn a lot of attention. Due to its extraordinary adaptability and quickness, it was specially designed for all these apps.  Here is a step-by-step explanation for using Nox Player to install the Realm Defense game on a pc running Windows 7/8/10.
You can download Nox Player from the official website and set upr on your PC.

The Play Store's application button can be accessed on Memuplay's home screen after you've set up the Nox Player emulator. Then double-tap the button to open the play store.

Browse the Realm Defense game on Google Play Store.  When you locate this app there, you may begin installation by selecting the Install button.

After the installation is complete, the Realm Defense game may be accessed on the Nox Player home screen.
Now that Realm Defense is accessible, you can use all of its incredible features for free on your Windows computer.
Realm Defense cheat:
If you want to collect unlimited gems, coins, free shopping and all the unlimited premium features of this game Realm Defense for free, you just have to download and install our Realm Defense mod. 
Permissions:
Access Network State: it allows apps to access network information.

Bind Get Install Referrer Service: it gives Play Install Referrer API permission.

Access Wifi State: it allows apps to get access to Wi-Fi network information.

Billing: It enables the Google Play billing system.

Internet: It enables apps the opening of network sockets.

Vibrate: It enables to have access to the vibrator
MOD APK version of Realm Defense: Hero Legends TD
MOD feature
Unlimited Money